Up to 24 months interest free with
Limited time only, T&Cs apply
Retractable Blackout blinds
Do you want the maximum viewing experience in your own home? Imagine if all you had to do to bring the cinema room to life was press a button and you could immerse yourself into your next movie marathon. With ScreenAway we even have automatic remote options, so you don't even need to get off the couch to close your roller blinds.
Typical theatre room curtains are bulky, hard to open and close, and they are never successful at blocking light. No one wants the afternoon glare to make an appearance on their big screen. That's why with ScreenAway's blockout blinds, you can get rid of your theatre curtains and install modern roller blinds that are inconspicuous and highly effective.
With ScreenAway media room blinds, you can create the total cinema room experience and effectively block light. Our roller blinds are designed to fit into the reveal of the window, this means they have a slimline appearance and there are no unsightly gaps to let annoying light in, unlike home cinema curtains.
No gaps also mean better sound absorption for your sound system, so you are less likely to be bothered by outside noise.
ScreenAway blackout roller blinds can also help with your home's energy efficiency. Thanks to our no gap system, it results in less lost heating and cooling. Helping to keep you cosy in your dedicated room while you're watching movies.
Don't let glare ruin your next movie marathon, get a free quote and measure to install ScreenAway blackout blinds in your home theatre today.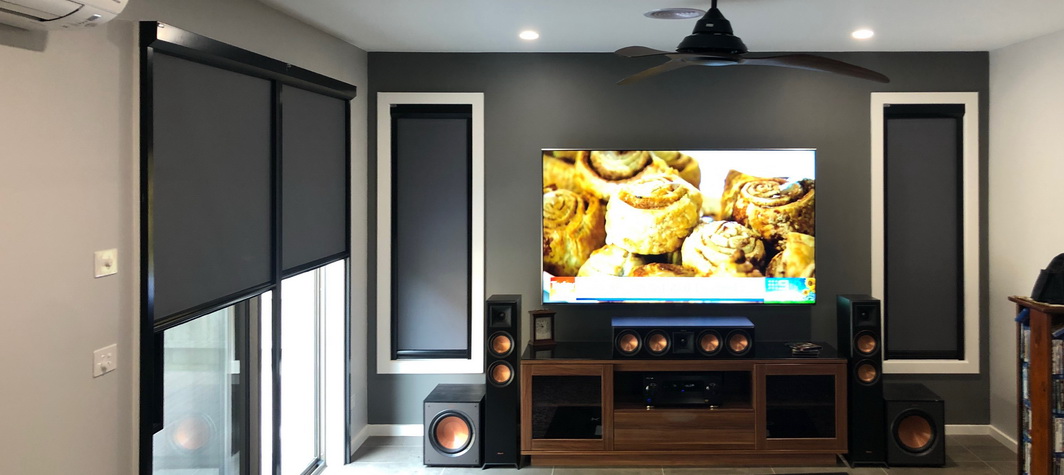 Custom Theatre Room Blockout Blinds
Don't worry about nosy neighbours or streetlights affecting your favourite movies. With ScreenAway blockout fabric you can reduce outside interference and create a dramatic effect for your cinematic experience. You'll soon realise blackout blinds are an essential component to any home theatre.
All of our products meet ACCC safety standards, making them some of the safest blinds on the market. There aren't any exposed cords, external pulleys or rollers that might present a tripping or choking hazard. The lack of an unsightly operational mechanism also makes our products aesthetically pleasing. Unlike standard curtains, ScreenAway blinds create a modern style that seamlessly blends into your home.
Our retractable window blinds can easily be retrofitted to new and existing windows, so whether you are building a new home, or renovating your current cinema room, you can install ScreenAway blockout blinds for your windows.
We custom fit and install our media room blinds so they perfectly fit your window reveal. We even have a pull-stick for windows in hard-to-reach places as well as remote options. You can control every blind in your home with a remote control, making ScreenAway products a great modern solution for most homes and properties.
Say goodbye to tiresome home theatre curtains and create the perfect solution for your cinema room. Get rid of annoying light and install ScreenAway blockout blinds for your home cinema, not only do they add a dramatic effect for your next movie night, but they can also provide noise reduction and absorb sound thanks to our no gap system.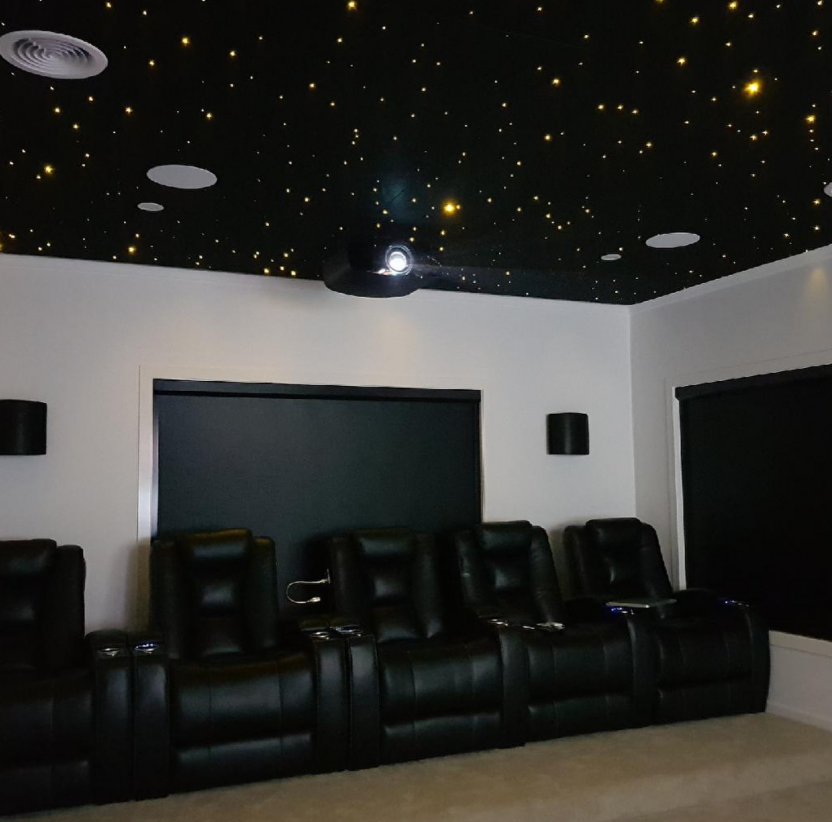 Features of Our Blackout Blinds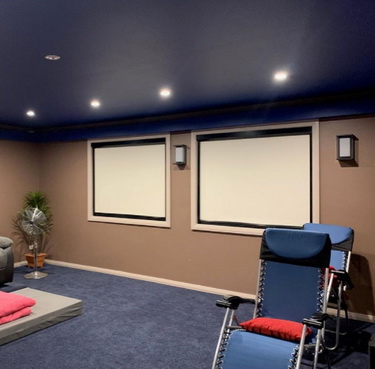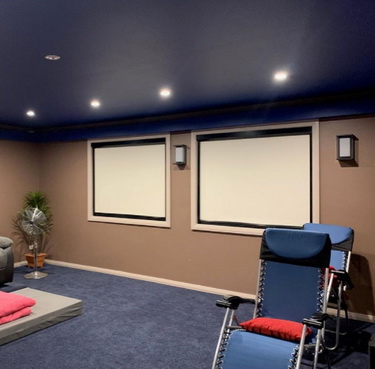 Roller Blinds with Manual and Automatic Options Available
ScreenAway Automated Blinds and Fly Screens are a great option for hard-to-reach areas and anywhere that automation is required. Powered by a 11W motor with an external 7.4V lithium re-chargeable, once fully charged, the motor will be powered for approximately 6 months – if operated 2 times daily (double round trip), before needing a recharge. Available with a 2, 6 or 16 channel wireless remote control to operate multiple blinds and flyscreens from a single remote. You'll never have to wrestle with blackout curtains again!
Get a free measure & quote in Sydney, Melbourne, Adelaide, Brisbane & Perth.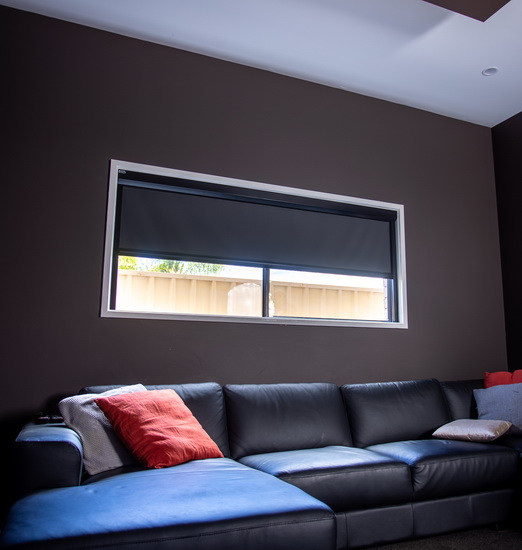 Innovative, user-friendly, and safe, ScreenAway's window blinds deliver excellent room darkening and blackout effects. The perfect solution if you're a young family with children, a shift worker or someone who enjoys a little sleep in. Not only can you control the light entering your home, but our blinds also give you the ability to control the ambient temperature containing the heat and cool. There are no gaps for light and heat to escape from, you'll never look at dark curtains again after you've tried ScreenAway roller blinds.
Our blinds don't contain any braking systems or spring-loaded rollers, instead have a pulley operated system that consists of a hard-wearing Kevlar cable. This means there are no cords, giving a neat, stylish and hazard free soft furnishings.
Our range of retractable blinds can be easily retrofitted to any window type whether your house is new or old. They are uniquely designed and manufactured to match you and your home. Unlike curtain panels that stick out and draw unwanted attention, our blinds blend in seamlessly to your home. Whether you have floor to ceiling windows, or a small skylight, you can have complete light control over your home cinema year-round.
Best of all, you have the option of your blinds being automated, creating the perfect acoustic absorption and cinematic experience with just a click! We offer remote-controlled retractable blinds that will give you complete control from the comfort of your chair. Our blinds can be stopped in any position letting you choose just how dark you want the inside of your home cinema or media room to be.
Inspiration
ScreenAway's unique blockout blinds are engineered to fit inside the window frame. This completely blocks out all light and successfully darkens your room. You can easily clean and maintain your retractable blinds! Simply wipe away any dust with a warm cloth. ScreenAway blinds also make window cleaning easier than ever.