For custom blinds & flyscreens installation in Adelaide, Brisbane, Canberra, Central Coast, Melbourne, Newcastle, Perth & Sydney, speak to us today.
Up to 24 months interest free with
Limited time only, T&Cs apply
Benefits of Indoor Retractable Blinds
For an effective and stylish option for your blinds, ScreenAway retractable blinds are the perfect solution. From night workers who are looking for that long deserved sleep after a shift, to the quintessential media room with cinematic experience, or to help you little one sleep in their nursery, a retractable blind system is your answer.
You can easily control the amount of light in every room, whether you want to set ambience or black out the room entirely. ScreenAway retractable interior blinds can prevent direct sunlight and light proof space with custom made and fitted blockout blinds. The beauty of ScreenAway blind blocks is that they are easy to use for both small and large windows. Unlike other blinds, ScreenAway only uses quality products to create exceptional finishes and a wide array of colour options to ensure your blinds seamlessly blend into your home.
Our slim and discrete system can be retrofitted to any new or existing windows, skylights, or doors. You can even install our roller blinds on your boat or caravan. The ScreenAway roller blind can be installed vertically, horizontally, and even upside down, the options are endless. If you have high vaulted ceilings or windows that you can't easily reach, we also have options to install a pull-stick or remote control so you can easily operate your blinds. Just one effortless glide and you can start preventing light from disrupting your sleep and add some more privacy to your home.
With no unsightly gaps in your blinds, ScreenAway blind systems are a clear choice for your next home improvement. Stop getting tangled in curtain cords and get a custom-made blind system for your home, once you have them, you'll wonder how you ever lived without them.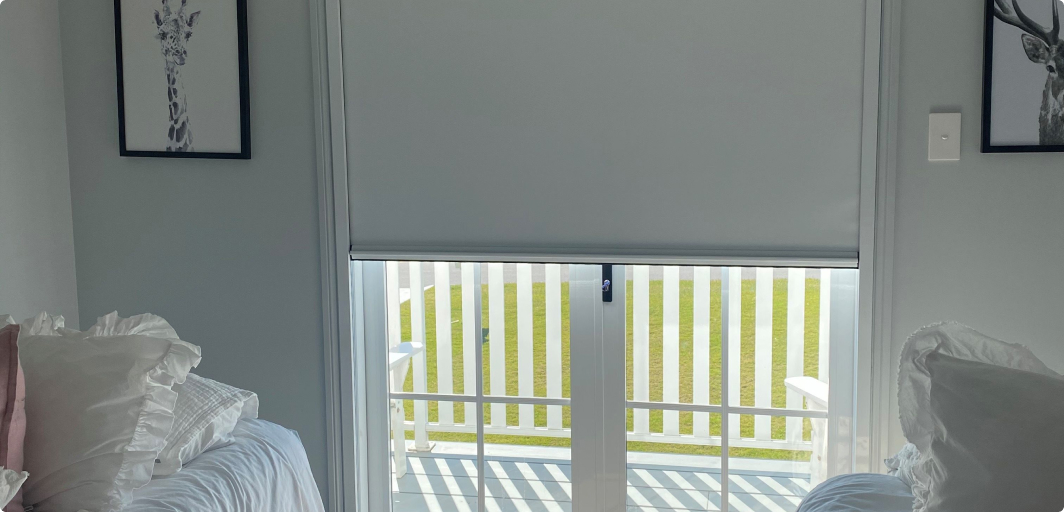 Custom fitted and installed smart blinds
For an effective and stylish option for your blinds, ScreenAway retractable blinds are the perfect solution. From night workers who are looking for that long deserved sleep after a shift, to the quintessential media room with cinematic experience, or to help you little one sleep in their nursery, a retractable blind system is your answer.
The Smart range is available on Blockout Blinds and Retractable Flyscreens. Smart roller blinds can be easily accessed from your phone to lower blinds for a movie marathon in your theatre room, afternoon nap or sleep in.
Perfect for shift workers who need sleep or for in a baby's room. Smart automatic blinds make it easy to control privacy and light in your home.
Get your free quote and measure today. With easy installation, competitive prices, and custom fitting, there is no excuse not to get a Smart home system for your home.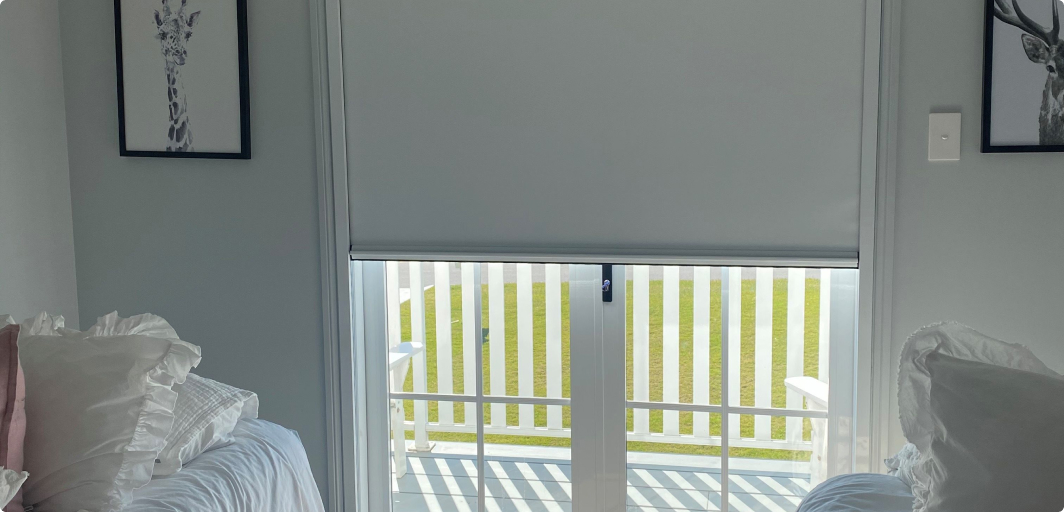 Custom Fitted & Installed
Our retractable window blinds can easily be retrofitted to new and existing windows on residential and commercial properties. This outstanding adaptability extends to most windows, skylights, and even caravans and boats. We can fit our retractable blinds to your home vertically, horizontally, or upside-down. We also offer a pull-stick if you plan to install your blinds in those hard-to-reach places!
When you choose ScreenAway internal blinds, you don't have to worry about flimsy cords or potential hazards. All ScreenAway retractable blinds comply with the ACCC standards and are child safe. With the track guided design, you can effortlessly glide your blinds closed for a spontaneous movie afternoon or weekend sleep in. Not only do retractable interior blinds look great, but they are also easy to clean thanks to the blind material and sleek window framework we install.
The smooth operating track guided system secures to any door or window frame to add some extra privacy to your home or reduce direct sunlight. The ScreenAway patented pulley system makes it simple to use your blind system without the added fuss.
With the remote-control option, you can relax and automate your blinds without getting off the couch. Thanks to the latest technology, you can add practicality to your home while still being family friendly. No hideous heavy blinds that require constant adjusting and still never do the job properly. With a ScreenAway slim and discrete system you can effortlessly control light in any room of your home or office.
Our automated blinds are battery-powered and will last approximately six months before needing to be recharged. You also have the option to connect your automatic blinds to a solar panel charger that provides a continuous charge to the battery when absorbing sunlight. This reduces maintenance requirements and allows you to operate your ScreenAway products year-round without worrying about them breaking down.
Features: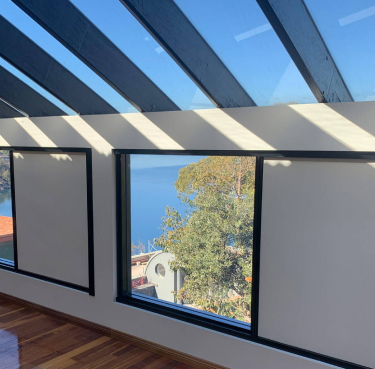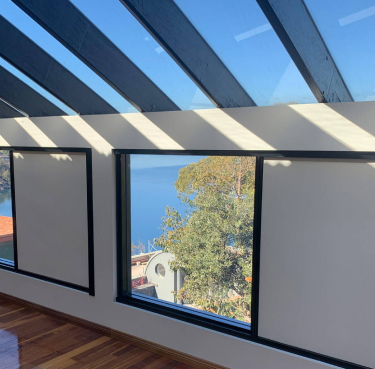 Manual & Automatic Retractable Blinds
ScreenAway Automated Blinds and Fly Screens are a great option for hard-to-reach areas and anywhere that automation is required. Powered by a 11W motor with an external 7.4V lithium rechargeable, once fully charged, the motor will be powered for approximately 6 months – if operated 2 times daily (double round trip), before needing a recharge. Available with a 2, 6 or 16 channel wireless remote control to operate multiple blinds and flyscreens from a single remote.
With simple installation in major cities across Australia, you have no excuse not to call one of our product sales specialists. Get rid of your old curtains that are more effective at collecting dust than blocking sunlight and bring your home into the modern age.
Get a free measure and quote in Sydney, Melbourne, Adelaide, Brisbane, and Perth. What have you got to lose? Start getting the sleep and relaxation that you deserve today.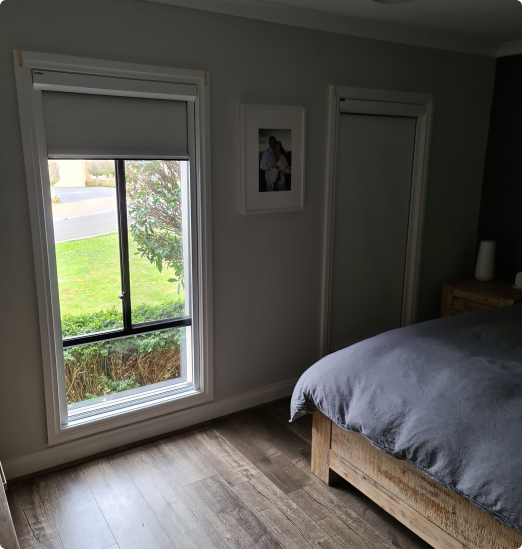 Innovative, user-friendly, and safe, ScreenAway's window blinds deliver excellent room darkening and blackout effects. The perfect solution if you're a young family with children, a shift worker or someone who enjoys a little sleep in. Not only can you control the light entering your home, but our blinds also give you the ability to control the ambient temperature containing the heat and cool.
Our blinds don't contain any braking systems or spring-loaded rollers, instead have a pulley operated system that consists of a hard-wearing Kevlar cable. This means there are no cords, giving a neat, stylish and hazard free finish.
Our range of retractable blinds can be easily retrofitted to any window type whether your house is new or old. They are uniquely designed and manufactured to match you and your home.
Best of all, you have the option of your blinds being automated! We offer remote-controlled retractable blinds that will give you complete control from the comfort of your chair. Our blinds can be stopped in any position letting you choose just how dark you want the inside of your home to be.
Inspiration
ScreenAway's unique blockout blinds are engineered to fit inside the window frame. This completely blocks out all light and successfully darkens your room. You can easily clean and maintain your retractable blinds! Simply wipe away any dust with a warm cloth. ScreenAway blinds also make window cleaning easier than ever.
Retractable Blinds Videos