Flexible Operation Options for Your Roller Blinds
Unlike venetian blinds or plantation shutters, ScreenAway roller blinds have options for night programming and motorised products. Roller blinds are suitable for small or larger windows and can help protect your home as a layer of thermal insulation. Not only will this help with your carbon footprint and energy bills, but it will also add privacy and light control to any room.
ScreenAway's retractable roller blinds have child safety features to ensure that there are no dangling cords or ropes. With smartphone operations, battery motors and options for solar panel recharge, you can take light control to the next level and bring your home into the future.
Every home is unique, and this should be taken into account when considering blackout blinds or retractable flyscreens. To cater for most window sizes and heights choose from the following operation options, Manual, Remote and Smart. Replace your existing roller blinds with remote controls and transform your window furnishings.
For remote control blinds, smart blinds, or manual blinds, ScreenAway can install your home automation systems to help improve your sleep patterns and add more privacy to your home. Easy installation and custom fit to suit your home. Get your free measure and quote today for all your blinds, sliding doors, caravans, boats, or bathrooms.
Which Operation is right for you?
| | | | |
| --- | --- | --- | --- |
| Operation Option | Manual | Motorised | Smart |
| Manual Operation | Yes | No | No |
| Remote Operation | No | Yes | Yes |
| Smart Home Ready | No | No | Yes |
Operation Options
Manual Roller Blinds
Our Manual range is a simple, easy-to-use system. Simply push your blind to the desired location and enjoy. For high windows or hard to reach places, there are options for an extended pulley.
Available on Blockout Blinds and Retractable Flyscreens.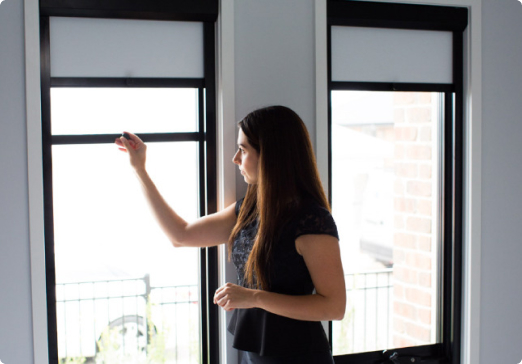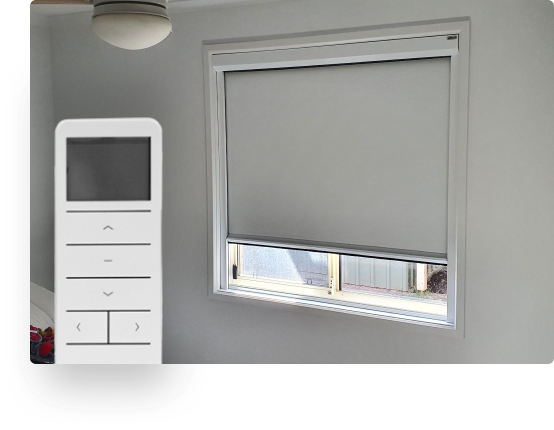 Motorised Roller Blinds
The Motorised blind range offers a convenient remote-control operation. Control the light in your home by adjusting your blinds from the comfort of your couch. Our Motorised range is perfect if you want complete control with the touch of a button. Access multiple motorised blinds to make the perfect solution for any home.
Available on Blockout Blinds and Retractable Flyscreens.
Smart Remote Control
Featuring a WiFi bridge, smartphone integration and voice control, our new Smart range is a fully automated system. The WiFi bridge seamlessly connects your blinds to your phone and home automation system giving you even more control from anywhere with access to the internet.
Available on Blockout Blinds and Retractable Flyscreens.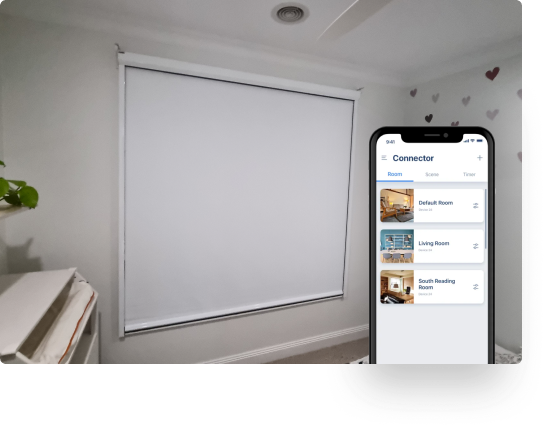 Discover the benefits of Motorised and Smart Operations
ScreenAway's unique remote control allows you to program up to 15 separate blinds in one remote, giving you the convenient ability to control the light in your home with just a click. Control multiple blinds remotely from the comfort of your chair.
Our Smart range allows you to control your blinds through voice with Smart Home Systems such as Google Home or Amazon Alexa. Set your preferred 'scene' and sit back and relax as your blind/screen does the rest.
Download the Connector application and operate your blind/screen from anywhere with a WiFi connection. This gives you the ability to raise and lower your blind/screen, wherever you may be. Control all your automated blinds from your mobile phone remote control.
The Bidirectional Communication allows you to see the exact height of your blind/screen in real time, via the app. You can remotely adjust the blind/screen to your desired level, say for an unexpected afternoon rainstorm.
Automatically Adjust with Scenes
The Connector app also gives you the ability to program your favourite settings into your blinds. This allows you to set your blinds to adjust themselves automatically according to the time of day. Program them to raise themselves in the morning to let the light in and automatically lower in the afternoon to combat that blinding glare.
Sunrise Setting | 7am
Set your blind/screen to open and let in natural morning light.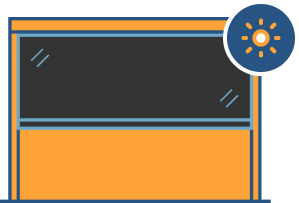 Afternoon Setting | 3pm
Lower blind/screen to halfway and block out the blinding glare.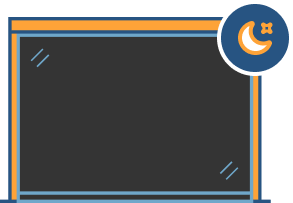 Nighttime Setting | 7pm
Lower blinds to create privacy and settle in for the night.